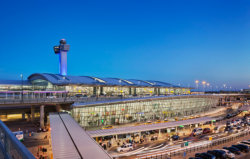 Delta JFK Terminal Redevelopment Program
Jamaica, NY
Delta Air Lines relocated its international flight operations from Terminal 3 to Terminal 4 at JFK International Airport to ease congestion and help position itself as New York City's leading carrier. STV, in joint venture, oversaw landside and airside improvements during the two-phase, award-winning program that has streamlined baggage claim and security checkpoints and made travel more convenient for customers.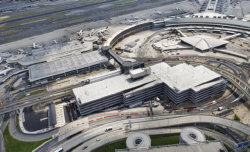 JetBlue Airways Yellow Parking Garage Design-Build
Queens, NY
As part of its expansion program at JFK International Airport, JetBlue commissioned a design-build, 1,500-space, six-level parking garage on a 107,000-square-foot footprint, with 650,000 square feet of above-grade parking. The garage serves JetBlue's Terminal 5.
As design architect and architect-of-record for the design-build team, STV was responsible for the architectural design; geotechnical investigation; and civil, mechanical, electrical, plumbing, and fire protection engineering. The firm worked closely with the structural engineer to design a functional and attractive garage under an aggressive schedule. Like all garages in the JFK Central Terminal Area, the Yellow Garage includes intermodal connections to the AirTrain light rail system and the Jet Blue Terminal via the AirTrain station elevated pedestrian connector.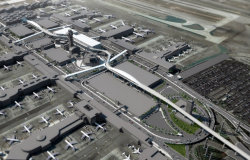 LAX Landside Access Modernization Program
Los Angeles, CA
The Los Angeles International Airport (LAX) Landside Access Modernization Program centers around a planned transit system connecting passenger services and amenities within the airport precinct. A key component of the $5 billion Los Angeles World Airports (LAWA) program is a 2.25-mile-long automated people mover (APM) that would link the central terminal area with a consolidated car rental center and a remote intermodal transit facility that connects to Los Angeles County Metropolitan Transportation Authority transit service.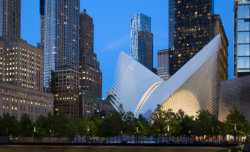 World Trade Center Transportation Hub
New York, NY
As one of New York City's most important and visible infrastructure projects, the World Trade Center (WTC) Transportation Hub is an integral part of the reconstruction of the WTC site and the revitalization of Lower Manhattan. STV, as part of a joint venture working in association with renowned Spanish architect Santiago Calatrava, S.A., provided engineering design and project controls services for this Port Authority of New York and New Jersey project. We also served as architect of record, responsible for realizing Calatrava's dramatic vision of a delicate, latticed pavilion with a skylight that is designed to open every year on the anniversary of the events of September 11.