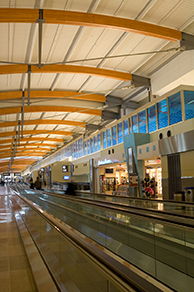 Raleigh-Durham International Airport Terminal Expansion Program and Construction Management
Morrisville, North Carolina
Parsons has successfully provided program and construction management (PM/CM) services on various projects at Raleigh-Durham International Airport (RDU) since 2003, most notably the $1.2 billion Terminal 2 Expansion and the Terminal 1 Renovation. Parsons' services at RDU have included preconstruction management, design team, and construction manager-at-risk procurement assistance; design management; and design coordination with the concessions program and other third-party agencies. Parsons also provided construction packaging assistance, construction phasing studies, LEED® management, and special inspections. Challenges: Work was managed in an operating airport environment. The project was a multiphased 1-million-square-foot, 36-gate terminal program.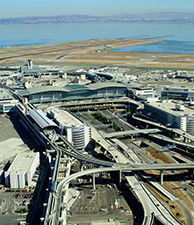 San Francisco Terminal 2 Program Management
San Francisco, California
The $383 million program to renovate Terminal 2 and Boarding Area D involved stripping much of the existing structure to its frame. A design-build (DB) delivery method was used on this fast-track, 30-month program. As a member of the DB joint venture, Parsons provided CM services related to overseeing DB activities during design and construction. Parsons' design phase responsibilities included design management, programming, constructability reviews, scheduling and cost control, and contract packaging. The Parsons team used lessons learned to create viable management approaches that leveraged the team's experience in DB and conventional CM delivery methods and provided San Francisco International Airport with long-lasting tools and processes with which to manage future DB projects. The project was the first airport terminal to earn LEED Gold certification.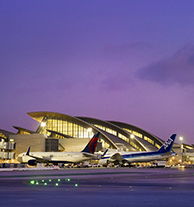 Tom Bradley International Terminal Construction Management
Los Angeles, California
Los Angeles World Airports (LAWA) undertook a $723 million major renovation of the Tom Bradley International Terminal (TBIT) at Los Angeles International Airport to accommodate the estimated annual growth of passengers from 10 to 17 million. This upgrade was the airport's first and largest individual project since 1984, and more than 75 percent of construction and demolition waste on the project was recycled or salvaged. The renovation used materials with recycled content where possible, and terrazzo floors, wall materials, and carpeting all made the green grade. In addition, 70 percent of the demolition materials was either salvaged or recycled. Other environmentally friendly features included more efficient lighting, electrical controls, and heating/air conditioning systems.
The project incorporated a complex construction phasing plan, which accommodated 34 airlines and more than 10 million passengers per year. The phases were divided by levels (arrivals, departures, customs, and baggage system) and were segmented by major areas within each level.
The renovation of the Tom Bradley International Terminal earned the first LEED Silver certification for a renovation project at a U.S. airport.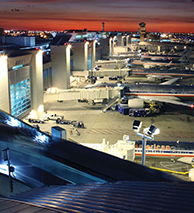 Miami International Airport North Terminal Development Consolidation
Miami, Florida
As the general management contractor-at-risk, Parsons completed the construction of a new international hub terminal for American Airlines at Miami International Airport (MIA) as a member of the Parsons-Odebrecht joint venture. The $1.1 billion project developed the North Terminal to provide enhanced operating capability; improved levels of passenger service; and allowed American Airlines to expand its facilities for growth into the Latin American and Caribbean markets, which account for nearly 25 percent of the airline's traffic and revenue.
The new terminal, American's second-largest hub, is five stories tall, more than 1 mile long, and encompasses 3.6 million square feet. Parsons orchestrated multiphased construction, which demolished Concourses B and C, doubled the length of Concourse D, and doubled the length of the existing terminal — all while allowing the airport to remain operational. The five-level terminal includes 49 international and domestic gates and two swing gates, a ramp control tower, 148 ticket counters, 126 self-service counters, 32 curbside check-in positions, a new federal inspection service facility with 72 positions and the capacity to process 3,600 passengers per hour, and a four-station automated people mover.